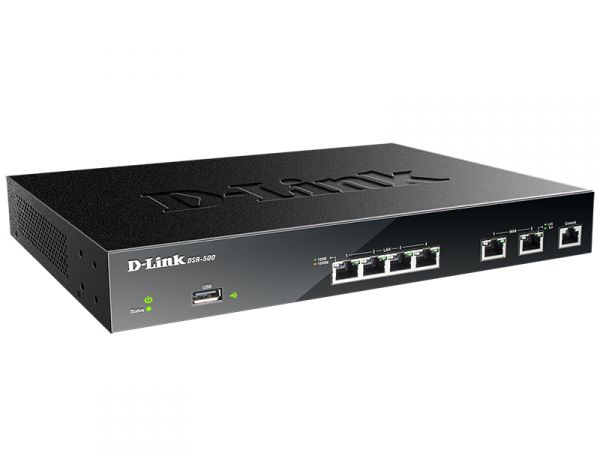 Description
D-Link Unified Services Routers provide secure, high performance networking solutions to address the growing needs of small and medium businesses. The integrated high-speed IEEE 802.11n wireless technology in the DSR-250N, DSR-500N, and the DSR-1000N routers offers comparable performance to traditional wired networks, but with fewer limitations. Each router provides optimal network security via features such as Virtual Private Network (VPN) tunnels, IP Security (IPSec), Point-to-Point Tunneling Protocol (PPTP), Layer 2 Tunneling Protocol (L2TP), and Secure Sockets Layer (SSL). These routers also allow you to empower your road warriors with clientless remote access anywhere and anytime using SSL VPN tunnels.
Comprehensive Management Capabilities
The DSR-500/500N and DSR-1000/1000N include dual-WAN Gigabit Ethernet that provides policy-based service management to ensure maximum productivity for your business operations. The failover feature maintains data traffic without disconnecting when a landline connection is lost. The Outbound Load Balancing feature adjusts outgoing traffic across two WAN interfaces and optimizes system performance, resulting in high availability. The second WAN port can be configured as a DMZ port, allowing you to isolate servers from your LAN.
Superior Wireless Performance
Designed to deliver superior wireless performance, the DSR-250N, DSR-500N, and DSR-1000N include 802.11a2/b/g/n, allowing for operation on either the 2.4 GHz or 5 GHz2 wireless LAN radio bands. Multiple In Multiple Out (MIMO) technology allows the DSR-250N, DSR-500N and DSR-1000N to provide high data rates and a wide wireless coverage area with minimized "dead spots."
Robust VPN Features
A fully featured virtual private network (VPN) provides your mobile workers and branch offices with a secure link to your network. The DSR-250N, DSR-500/500N, and DSR-1000/1000N are capable of simultaneously managing 5, 10, or 20 Secure Sockets Layer (SSL) VPN tunnels respectively, empowering your mobile users by providing remote access to a central corporate database. Site-tosite VPN tunnels use IP Security (IPSec) Protocol, Point-to-Point Tunneling Protocol (PPTP), or Layer 2 Tunneling Protocol (L2TP) to facilitate branch office connectivity through encrypted virtual links. The DSR-250N supports up to 25 simultaneous VPN tunnels, the DSR-500/500N supports up to 35 VPN tunnels, and the DSR-1000/1000N supports up to 70 VPN tunnels.
Efficient Green Technology
As a concerned member of the global community, D-Link is devoted to providing eco-friendly products. D-Link Green Wi-Fi and D-Link Green Ethernet features save power and help cut energy usage costs. The D-Link Green WLAN Scheduler shuts down your wireless network automatically according to a schedule you define, allowing you to turn off your wireless network during off-peak hours, saving energy and keeping your network secure. The D-Link Green Ethernet feature can detect the length of the cables connected to the router, and can adjust power usage accordingly to save energy automatically without sacrificing performance. It can also detect if a link is down on a port, and automatically puts that port into a sleep mode that drastically reduces the amount of power used. In addition, compliance with RoHS (Restriction of Hazardous Substances) and WEEE (Waste Electrical and Electronic Equipment) directives make D-Link Green certified devices an environmentally responsible choice.
General features
Interface Ethernet
• 2 10/100/1000 Mbps WAN Ports
• 4 10/100/1000 Mbps LAN Ports

USB
1 USB 2.0

Console
RJ-45

System Performance8
• Firewall Throughput7: 70 Mbps
• VPN Throughput9: 35 Mbps
• Concurrent Sessions: 30,000
• New Sessions (per second): 300
• Firewall Policies: 300

Internet Connection Type
• Static/ Dynamic IP
• PPPoE/ L2TP/ PPTP
• Multiple PPPoE

Firewall System
Static Route
• Dynamic Route: RIPv1, RIP v2, OSPF6
• Dynamic DNS
• Inter-VLAN Route
• NAT, PAT
• Web Content Filtering: Static URL, Keywords
• Intrusion Prevention System (IPS): Signature package included in Firmware

Networking
• DHCP Server/Client
• DHCP Relay
• IEEE802.1q VLAN
• VLAN (Port-Based)
• IP Multicast IGMP Proxy
• IPv6
• Route Failover
• 3G Redundancy
• Outbound Load Balancing

Virtual Private Network (VPN)
• VPN Tunnels: 35
• Encryption Methods: DES, 3DES, AES, Twofish, Blowfish, CAST-128, NULL
• IPSec/PPTP/L2TP Server
• IPSec NAT Traversal
• Dead Peer Detection
• IP Encapsulating Security Payload (ESP)
• IP Authentication Header (AH)
• VPN Tunnel Keep Alive
• Hub and Spoke

SSL Virtual Private Network (SSL VPN)
• SSL VPN Tunnel: 10
• SSL Encryption Methods: DES, 3DES, AES
• SSL Message Integrity: MD5, SHA1

Bandwidth Management
• Max. Bandwidth Control
• Priority Bandwidth Control
  Port-Based QoS
  3 Classes

System Management
• Web-based User Interface: HTTP, HTTPS
• Command Line
• SNMP v1, v2c, v3
Power Supply Internal
• Power Supply Unit
• DC 12 V / 2.5 A

Max. Power Consumption
15.6 W

Dimensions (L x W x H)
180 x 280 x 44 mm

Operation Temperature
0 to 40 °C

Storage Temperature
-20 to 70 °C

Operation Humidity
5% to 95% Non-condensing

EMI/EMC
FCC Class B, CE Class B, C-Tick

Safety
cUL, LVD(EN60950-1)

MTBF
260,000 hours

6 Available with future firmware upgrade.
7 The maximum Firewall plaintext throughput is based on RFC2544 testing methodologies.
8 Actual performance may vary depending on network conditions and activated services.
9 VPN throughput is measured using UDP traffic with a 1420 byte packet size, adhering to RFC2544.