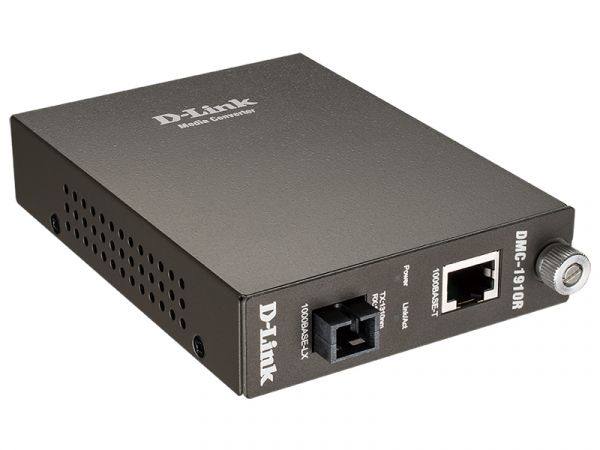 DMC-1910R
1000BASE-T Twisted Pair to 1000BASE-LX Single-mode fiber (10 km, SC) Media Converter Module
Where to buy
Description

The D-Link DMC-1910 Fiber Media Converter converts 1000BASE-T copper Gigabit signals to 1000BASE-LX fiber Gigabit signals. This allows you to connect longer distance fiber cables between two devices that are designed only for shorter distance Cat. 5 twistedpair cable.

The DMC-1910 media converter combines transmitting and receiving signals onto one fiber strand using two wavelengths. This design avoids the budget losses incurred by the singlewavelength single-fiber technology, and minimizes any possibility of reflections in the system. The DMC-1910 consists of two units. One unit uses one wavelength to transmit and a second wavelength to receive, while the other flips that relationship. Two different types of transmitting wavelength are supported: one WDM bi-directional wavelength for both transmission and reception.

Both units of the DMC-1910 media converter are encased in a solid metal housing with LED status indicators. The DMC-1910 can be used as stand-alone converter, or installed in a DMC-1000 chassis. In case you install it in the chassis, you will remove the metal cases of the two units and slide in their PC boards into the chassis slots. The chassis's power supply will be used instead of the media converters' own AC to DC power adapter. The media
converter is hot swappable when used with the chassis.


General features

Interface
Number of Ports
• 1 x 1000BASE-T RJ-45 port
• 1 x 1000BASE-LX bidirectional SC port

Standards
• IEEE 802.3ab for 1000BASE-T
• IEEE 802.3z for 1000BASE-LX

Data Transfer Rate
• 2000 Mbps (full-duplex)

Duplex Mode
• Full-duplex

Media Types
• 1000BASE-T: 4-pair Cat. 5, Shielded Twisted Pair (STP) (up to 100 m)
• 1000BASE-LX: Single-mode fiber optic cable with SC connector (up to 10 km)

Media Exchange Interface
• Auto-MDI/MDIX

Functionality
Transmission Mode
• Store-and-forward

Forwarding Rate
• Full wire-speed forwarding rate

Management
• Through the DMC-1000 chassis with the DMC-1002 management module installed

Management Functions
• LLR (enable/disable)
• Fiber mode

Physical
Diagnostic LEDs
• Power
• LINK/ACT

AC Input
• 5 V/1 A external power adapter

Temperature
• Operating: 0 °C to 40 °C (32 °F to 104 °F)
• Storage: -10 °C to 70 °C (13 °F to 158 °F)

Humidity
• 10% to 90% RH, non-condensing

Dimensions
• 120 x 88 x 25 mm (4.72 x 3.46 x 0.98 in)

Weight
• 300 g (0.66 lbs)

Fiber Wavelength
• TX: 1310 nm
• RX: 1550 nm

Supported Fiber Cable Length
• Up to 10 km

Emission Certifications (EMI)
• FCC Class A
• VCCI Class A
• CE Class A
Order info
DMC-1910R   1000BASE-T Twisted Pair to 1000BASE-LX Single-mode fiber (10 km, SC) Media Converter Module