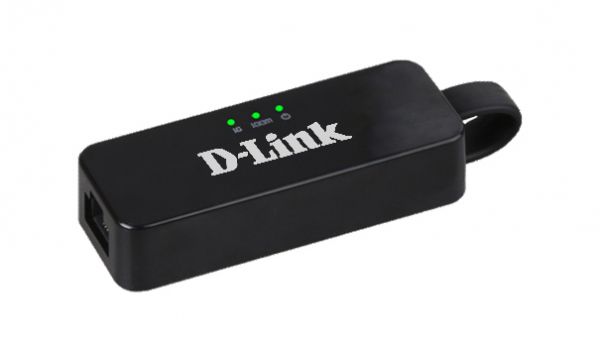 Apraksts
The DUB-2312 USB Type-C to Gigabit Ethernet network adapter provides Gigabit Ethernet connectivity for desktop and portable computers. Just plug the adapter into your computer's USB Type-C port, and you will be able to connect a switch or a router to your computer using Ethernet cable.
Gigabit Ethernet Connectivity
The DUB-2312 network adapter can be plugged into any available USB Type-C port on your computer to enable you to connect to an Ethernet network. This adapter provides network connectivity even for the computers, that don't have RJ-45 port. The DUB-2312 eliminates the need to open your computer to install a network card, and it also lets you keep your notebook's expansion slot free for other uses.
Easy to Install and Use
The DUB-2312 network adapter connects to your computer's USB Type-C port and is ready to run almost as soon as it's plugged in. There is no need to change any confguration settings on your computer, just install the device drivers.
Energy Saving
The DUB-2312 supports an energy-saving suspend and resume function to minimize power consumption, which is especially useful for notebook users as it helps to conserve battery life, allowing them to use their notebooks for a longer period. Power is provided directly by the USB bus, eliminating the need for an external AC power adapter.
Īpašības
Hardware

Interfaces

• RJ-45 Ethernet port (10/100/1000 Mbps)

• USB Type-C connector

LEDs

• Power

• 1G

• 100M

Functionality

Standards and Functions

• USB Specification Version 3.0

• USB Specification Version 2.0

• USB Specification Version 1.1

• IEEE 802.3 10Base-T

• IEEE 802.3u 100Base-TX

• IEEE 802.3ab 1000Base-T

• IEEE 802.3az Energy Efficiency Ethernet

• IEEE 802.1P Layer 2 Priority Encoding

• IEEE 802.1Q VLAN tagging

• IEEE 802.3x Flow Control in full duplex mode

• Wake-on-LAN

Power Management

• Power Saving Mode when Ethernet cable is unplugged

System Requirements

Minimum System Requirements

• Operating system: Microsoft Windows 7/8/10, Mac OS X Catalina 10.15.5

Physical Parameters

Dimensions (L x W x H)

• 72 х 21 х 16.5 mm

Environmental Conditions

Power Supply

• From USB bus

Temperature

• Operating: 0 to 55 °C

• Storage: -20 to 70 °C

Humidity

• Operating: 10% to 90% non-condensing

• Storage: 5% to 90% non-condensing
Informācija pasūtījumam
DUB-2312/A1A   USB Type-C to Gigabit Ethernet Network Adapter